WE ARE OPEN!
We take your health seriously and are taking extra precautions to provide a safe and healthy learning environment during the Covid-19 outbreak, including additional sanitizing of gear and equipment as well as smaller groups and safe social distancing during our classes.
Basic Riding Courses in Denver, CO
Total Control BRC®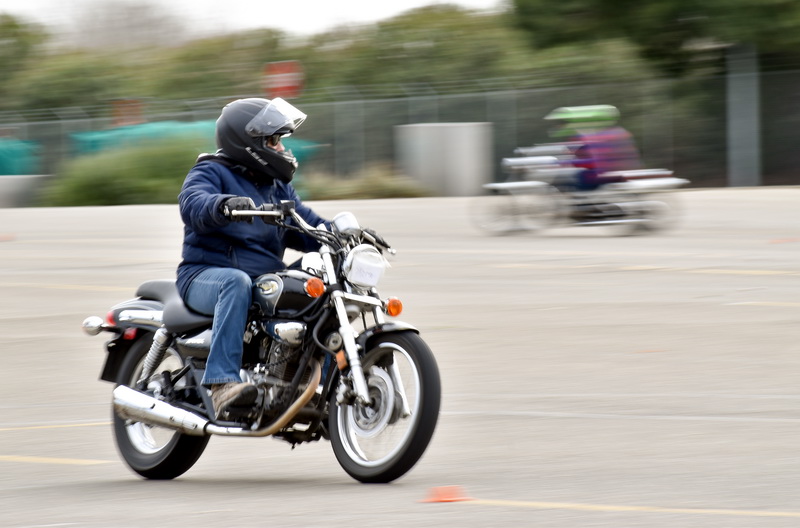 2 day licensing course
Learning to ride a motorcycle properly on the public road is a complex thing. Small detailed changes to how you think, how you operate the bike and even where you put yourself on the road can make huge differences to the enjoyment of your riding, as well as your safety. Our most popular motorcycle course is our Total Control Beginner Riding Clinic®, certified by the Colorado State Patrol Motorcycle Safety Training. This course is aimed at individuals with little or no riding experience. We pride ourselves in the quality of our instructors and training methods. Knowing what to say to a new rider to help them progress isn't something you learn without experience, a commitment to doing it right and a solid work ethic. With over 150 years of combined experience, we offer the best motorcycle training in the state of Colorado. Most of our instructors have been riding for 30+ years and all take motorcycle safety to heart. Your training will include classroom and on-cycle instruction for a total of 15+ hours. At the end of each section, students will take both a written and skills test. The successful completion of this class (passing both written and skills test) enables riders to receive a Colorado Motorcycle Operator Safety Training Completion Card which is a waiver of further testing at the Colorado DOR when they go to add the 2-wheel motorcycle endorsement to their Colorado Driver's License.
All students MUST bring to the range: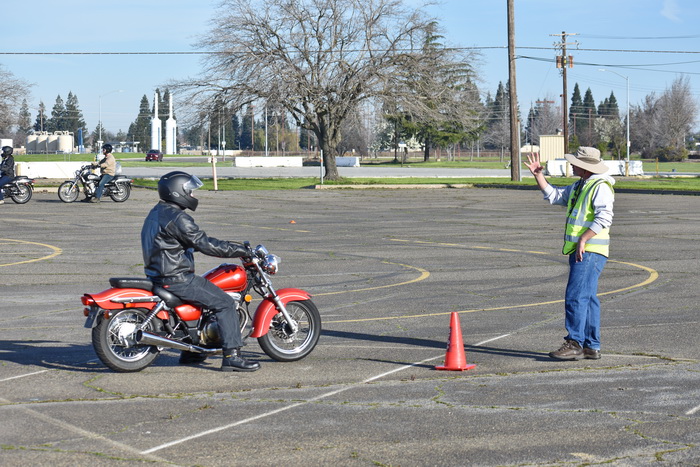 DOT-compliant helmet (Iron Buffalo provides helmets at all its sites. However, students are encouraged to bring their own if they own a DOT-compliant helmet)
Eye protection (eyeglasses, sunglasses, face shield, or goggles)
Sturdy over-the-ankle footwear that provides ankle support and protection from heat and moving parts. Most work type boots and hiking boots work well, but canvas high-tops or slip-on-boots with elastic (only) ankle covering ARE NOT ACCEPTABLE
Full-fingered leather gloves with a sturdy palm of leather or leather like material
Long sleeve shirt or jacket recommended
Long STURDY denim pants or jeans with NO holes or tears that allow any skin to be exposed
Rain gear if necessary (class will continue during rain)
Sun block, as needed
Snacks and lunch, and non-alcoholic beverages
Terms and Conditions
Students must:
Provide proper riding gear
Be on time. Students arriving late to any portion of the class will not be allowed to participate and will not be refunded or rescheduled
Students (teens or out of state) who do not hold a Colorado driverís license or ID must obtain a Pre-Registration code (PR Code) from the Colorado DMV located here. For information on registration for a PR Code, please follow these steps. Once the student has registered for a PR Code, enter this code in the drivers license box on the registration form. Note: If a parent is registering a teen, they must use the teenís information, not the parent's.
Cancellation/Refunds/Transfers Policy
To cancel and receive a refund or transfer, students must notify Iron Buffalo at least 2 business days before the start of the class
If class is cancelled by Iron Buffalo, a full refund will be issued or the class will be rescheduled (classes are held rain or shine)
Refunds/Transfers are not allowed if a student
Cancels less than 2 business days prior to class
Fails to attend the scheduled class
Arrives late to any portion of the class or practice and is not allowed to participate
Is dismissed by the instructor
"It was a great experience! It gave me the tools I needed to ride safely and with confidence. A big Thank You to my instructors Bob and Forest!! Tom"
― The Rafru
"The instructors were professional and friendly. I learned more than I had anticipated. Wonderful program, a great value. I enjoyed it immensely. Thank you!"
― Kevin Valentine
"I had some experience riding in the past but i wanted to do a license and training course to get my endorsement. The instructors Bob and Chadwick were amazing i saw other students in class who had never been on a motorcycle become competent riders. Total Control learning material was very informative and was easy to under stand. Thanks again Im pretty sure Ill be taking intermidiate and advanced courses in the future."
― Cornelio Casas
"Great class, very informative. Class was very small in a very convenient location away from city traffic. Bryan is a great laid back teacher, he was always ready to answer all our questions and concerns. Thanks guys. Highly recommended!!!! Jaro, Granby Colorado"
― Jsmolira
"Tana and Jiri were outstanding instructors. I would highly recommend this class to all beginning riders and those that have been riding "dirty" and just desire to become legal. I will absolutely be signing up for some advanced training and will request these instructors by name."
― Shawn Clark
"Our instructors wee amazing. They are very knowledgeable, patient, kind, and have great teaching methods. They are a good team. If I had reason enough we would take the class again just for fun. We haven't purchased our Spyder yet but their teachings helped me to be a better driver in general - more thoughtful when it comes to two- and three-wheelers on the road."
― AandM Wilkerson
"This training is top notch. Great instructors who were able to get through to me. I'm too old to learn from my mistakes (or to make mistakes - I don't have any left!) , so gaining ability is paramount. The training format reminded me of EMT training. The price is subsidized, I think, and worth every penny. I'm using my Can Am Spyder with confidence and best safety practices."
― Robert Hastings
Read more reviews on


©2021, Iron Buffalo Motorcycle Training.